On the stage in Hull New Theatre
Welton Church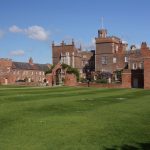 Burton Constable
Whether it's exploring behind the scenes at Hull's New Theatre, handling historic documents at Beverley's Treasure House, or learning how stained glass is made, Study Days provide the opportunity for a closer look at something of interest in our area.
These are usually two a year and they are within a radius of around fifteen miles, so you can make your way independently.
Back in June, notwithstanding the pouring rain, we visited the beautiful little village of Welton, where we saw some of the best pre-Raphaelite stained glass in the country in St Helen's church, and learned about the history of the rich landowners in the Georgian houses Pevsner admired so much, this was followed by lunch in Dick Turpin's pub afterwards.
Previous Study Days have also included tailor-made talks at the University of Hull and the Ferens Art Gallery on Walter Goodin,  Leonardo da Vinci and Andy Warhohl; Upstairs and Downstairs visits to Burton Agnes, Burton Constable and Hull New Theatre, as well as visits to churches in Hull and Barton.
Study Days are very popular and places are often limited, so we have a waiting list system in place.